September 6, 2021
Posted by:

New Trend

Category:

Blog
The COVR-X1870 Series is the perfect solution for starting out in whole-home mesh networking or expanding your existing network. Powered by AX1800 Wi-Fi 6, the COVR-X1870 Series was built for the modern device-dense home. Simply add more COVR-X1870 Series points throughout your home to create your own lag-free, super-fast, whole-home Wi-Fi 6 mesh network. Mesh that fits everyone's needs
High Performance
COVR your home with the latest Wi-Fi 6
technology and experience blazing-fast connections, even when everyone's online
More Coverage
The COVR-X1870 Series can cover up to 10,000 sq ft — enough seamless Wi-Fi coverage to eliminate pesky Wi-Fi dead zones in houses of different sizes and designs work
The COVR-X1870 Series combines next-generation Wi-Fi 6 and mesh technologies at AX1800 speeds. Perfect for large homes with lots of connected devices.
Wi-Fi 6 technology provides faster speeds, greater capacity and less network congestion
Next-generation speeds up to 1.8 Gbps (574 + 1200) built for the modern device-dense smart home
Dual-band Wi-Fi makes 4K streaming, gaming and video chatting a breeze
Coverage – 1 pack: 3000 sq ft/275 sq m ; 2 pack: 5500 sq ft/510 sq m ; 3 pack: 8000 sq ft/740 sq m ; 4 pack: 10000 sq ft/925 sq m
4 Gigabit Ethernet LAN ports and 1 Gigabit Ethernet WAN port provide optional wired connectivity
D-Link Wi-Fi Mesh lets you add other compatible D-Link Wi-Fi Mesh devices to expand your network as you wish
OFDMA and MU-MIMO technology communicate more data to more devices while simultaneously reducing latency
BSS coloring helps organize data packets, making your network more efficient and improving overall Wi-Fi 6 performance
Increased battery life of connected devices with Target Wake Time (TWT) technology
Mesh Smart Roaming technology auto connects you to the strongest signal
Advanced features: QoS, Quick VPN, IPv6 6rd, DS-Lite, Triple-play VLAN
FOTA (Firmware Over the Air) updates for minimal service disruption when updating
Latest industry-standard WPA3 wireless encryption
Built-in Speedtest® powered by Ookla®
Voice Control for an even easier home Wi-Fi networking experience
Works with the D-Link Wi-Fi app for easy setup and enhanced parental control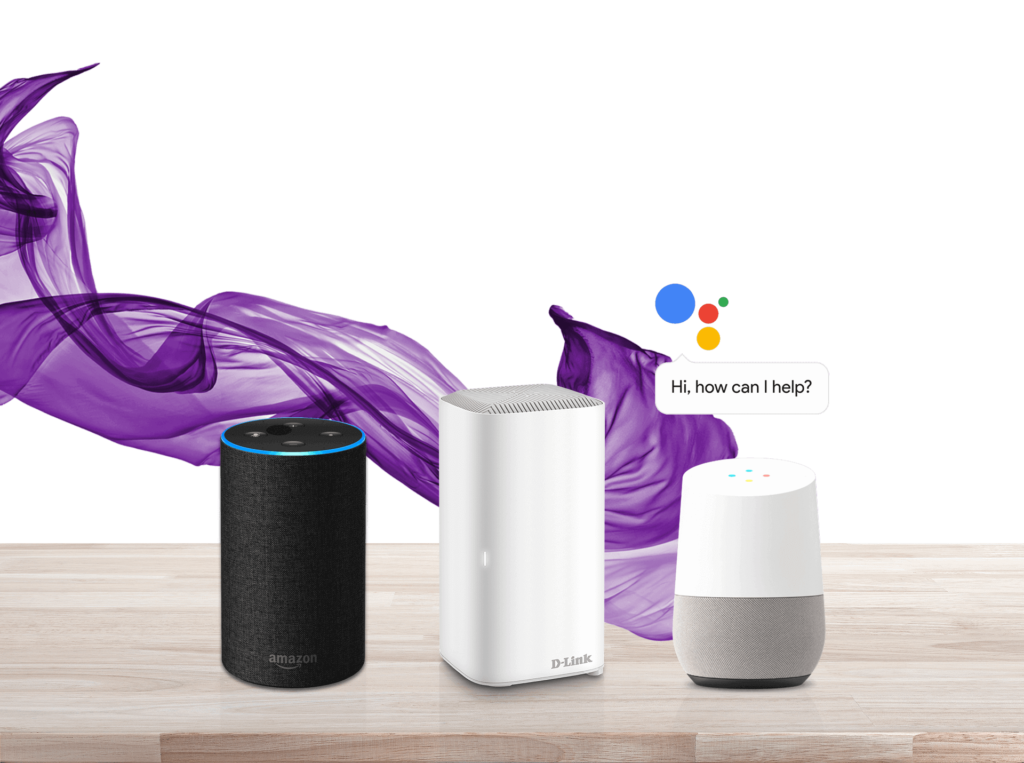 Supports the Google Assistant and Alexa
Easily integrates with Amazon Echo's Alexa or the Google Assistant for convenient hands-free voice control. Turn on and off your guest Wi-Fi, check login credentials, and reboot your Wi-Fi system. The COVR-X1870 Series gives you smart Wi-Fi 6 you can control, hands-free!
Simple. Yet Flexible
The COVR AX1800 Whole Home Wi-Fi 6 Mesh System comes pre-paired and works straight out of the box, so you just need to plug in the COVR Points and get started. The best part? It's flexible enough to cover most housing types. Add extra COVR-X1870 units for an additional 2000 square feet of coverage each so, from 1-story apartments to 4-story houses, and basements to back decks, COVR's got you covered.
Reduce Buffering and Lag
Smart Steering technology steers you away from buffering and lag by automatically directing your device to the optimum wireless band, depending on your current network traffic. No more frustrating drop outs, lag or interruptions in your wireless connections.
Buy from authorized D-link partners in UAE.Your trusted networking solutions provider